Swanbay.tv: Bespoke Video Highlight Platform
A single video archive driving multiple distribution and workflow enhancements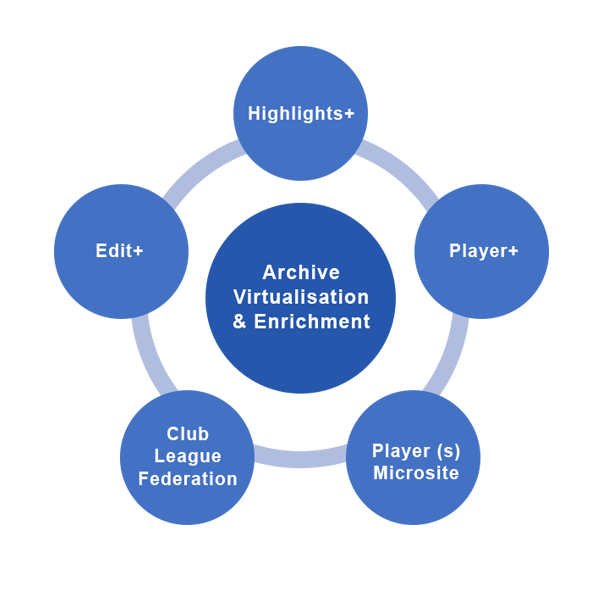 Open up your archive
Your fans on Your platform
Revolutionise your video usage
100% device compatibility
Geographic targeting
Plug & Play suite of solutions
Engagement & marketing services
Global digital distribution
Simple & cost effective integration
Hosted & delivered
D2C & B2B
Increase content production whilst reducing costs​
Archive virtualisation & Enrichment: The heart of our service
Using a patented technology we put your video at the centre of your digital presence
Driving multiple distribution channels & enabling your fans to engage with your video on your platform
We provide a hub for quick and effective video consumption both by fans and editorial teams
Enabling your content to drive sponsorship activation like never before
Highlights+ & Player+
Simple and innovative, every fan sees just what they want ​
Plug & play, simple to integrate​
Real fan engagement​
Revenue generative​
Superb sponsorship opportunities​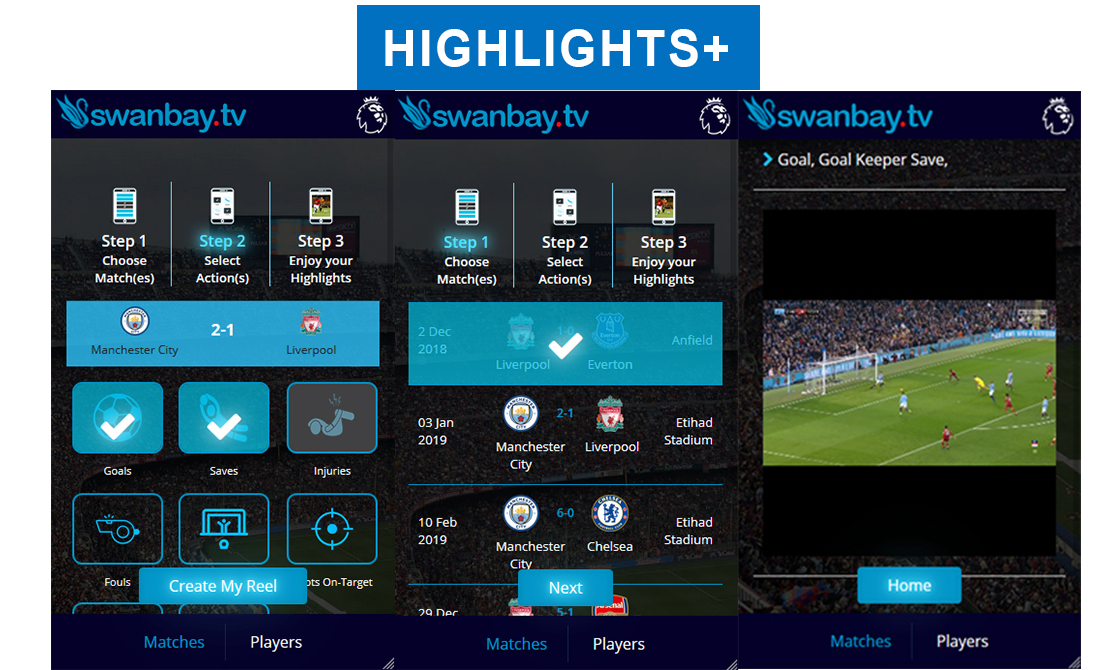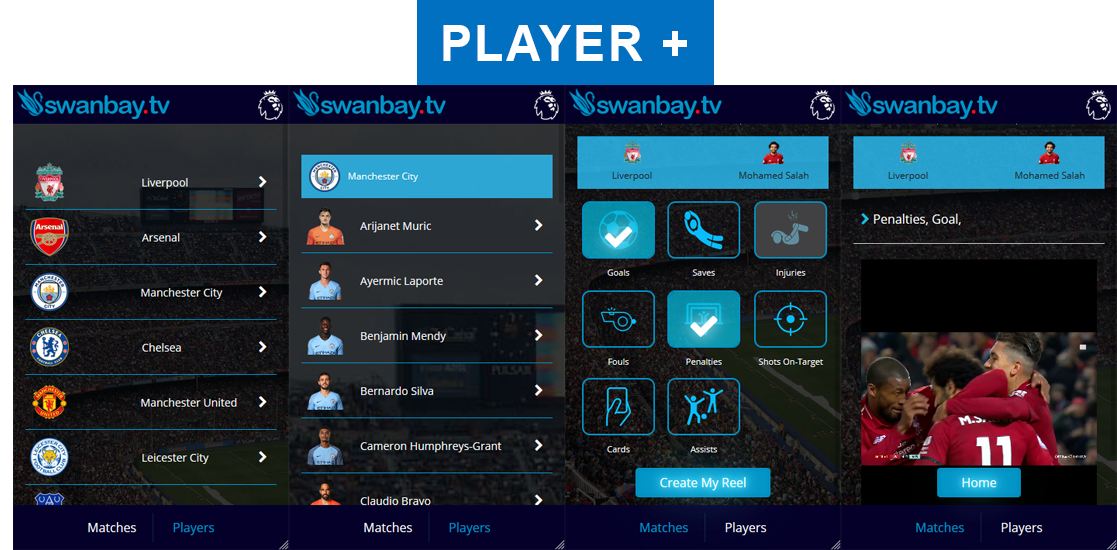 Player Microsite
Follow your favourite player, game by game or season to date​
Target overseas territories with local players​
Automatically update weekly latest action​
Simple subscription model, low monthly fee​
Geo target sponsorship activations​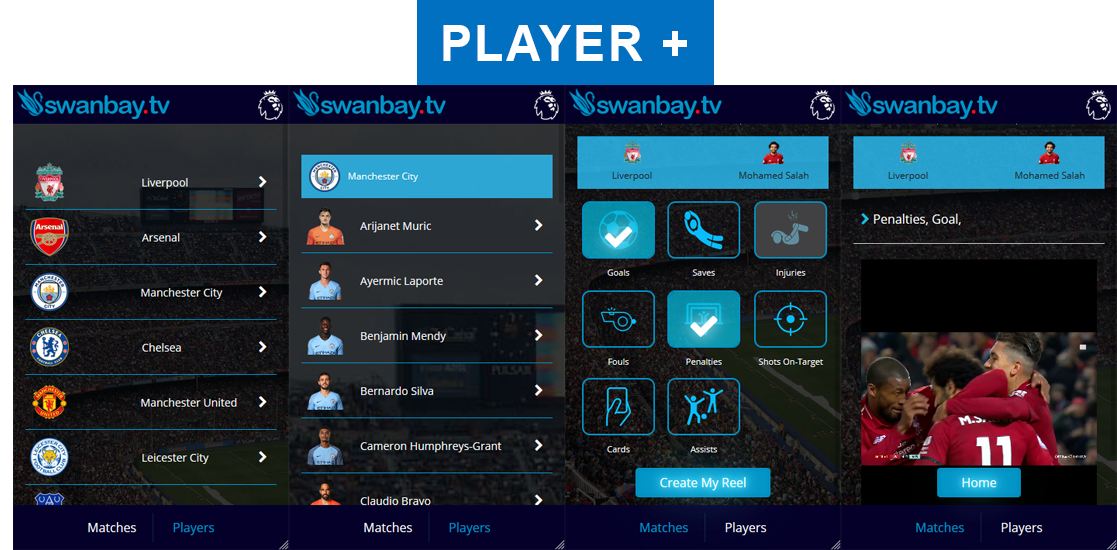 Edit+
Radically reduce the time it takes to find, edit & produce sports content
By being able to instantly find specific players, actions or passages of play. With Swanbay.tv Edit+ your team of vide & editorial creatives don't need to waste time locating action, Edit+ does it for them in seconds and compiles a clip of the searched criteria.

Edit+ = reduced editing costs, increased content creation & more engaging video or editorial supporting content:
Case studies:
Create a season highlights for Player of the year resume:
Existing – Minimum 1 day per player & potentially missed events​
Edit+ - source a players, goals, assists, blocks, tackles etc in seconds: 1 day for whole team, rest of the week off or to engage with fan feedback providing in real time other action​
Territorial partner wants their "home player" footage each game
Existing – hours trawling through each game each week, compiling and sending​
Edit+ - Automate the search, the compiled file is ready for review 12 hours after the game and with client soon after​
Editorial team want supporting content ASAP
Existing – get in the queue! Or I get on with X he'll do my request sharpish, maybe a day or two wait.​
Edit+ - editorial team can search for specific request, e.g. penalty saves this season & review in seconds – article done and on to the next one!
Clubs Together
Multiple rights holders or leagues can consolidate Player+ or Highlights+ across multiple clubs​
League, Club, Federation, Broadcaster….
Our Bespoke Highlight video platform is
Suitable for any rightsholders
Works across multiple sports:
Simple to integrate and cost effective
GET IN TOUCH TODAY TO ARRANGE A DEMO
Danny Crossen
Phone No.: +44 (0) 7834 035789
Email: danny.crossen@swanbay.tv